Best Practice – Thursday, April 30, 2020
An energy-intensive manufacturer makes the journey to carbon neutrality
Energy-intensive companies have a particularly hard time reducing their carbon emissions. The Adolf Föhl Group, a manufacturer of zinc die cast components, is ahead of its time with fully carbon-neutral production in Germany. This best practice case study illustrates the long path that took it there.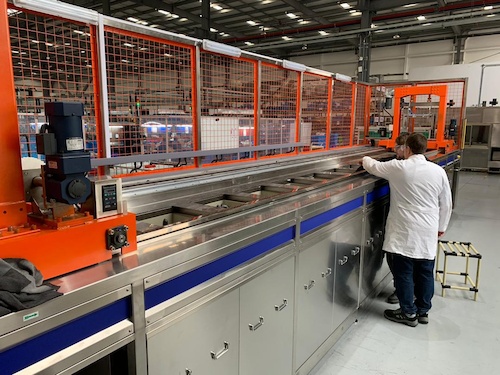 At the beginning of 2020, the Adolf Föhl Group, based in the southern German town of Rudersberg, officially became carbon neutral. The Group has approximately 700 employees in Germany and China and manufactures plastic and zinc die cast components for use in automobiles, electronics and fastenings as well as for industry. All three factories in Germany have been carbon neutral since January. The company is hoping to have its carbon-neutral status validated and certified in line with the ISO 14064 standard by the summer. Föhl is proof that even energy-intensive factories can be carbon neutral. But it is not just recent events and discussions surrounding climate conservation that have made the third-generation family business aware of the issue's importance. "Climate conservation is a tradition for us," says CEO Dr. Frank Kirkorowicz. "We began steadily reducing our carbon footprint 25 years ago."
Paving the way to carbon neutrality
Under the motto "smart, lean and green," the company has followed a development roadmap to continuously reduce its energy and material consumption. The first step in this direction was marked by Föhl's implementation of the European Eco-Management and Audit Scheme (EMAS) in 1996. The structure of the EU eco-audit corresponds to the international environmental management standard ISO 14001. EMAS is performance-based, meaning that audited companies need to set goals for continuously reducing their ecological footprint and establish measures to achieve these goals.
"We reached another milestone in 1999 with the construction of the most energy-efficient foundry in Europe," reports Andreas Eigner, Head of Environment and Energy Management at Föhl. Of the investments made by the company at that time, 40 percent were linked to environmental measures, he says. Since the foundry was built in an environmental protection area, the most advanced technology available was used for its construction.
In 2013, Föhl introduced an energy management system in compliance with ISO 50001. Energy management was already enshrined in the EMAS, but this step made energy efficiency even more of a priority, Eigner explains. Technical measures for increasing efficiency included the company's transition to LED lighting and the renovation of old, inefficient exhaust air systems. A smart building and energy load management system was also introduced.
Developing economical technologies
In order to save energy and materials and to reduce transportation distances, the company is also developing new, sustainable production technologies, giving ecological considerations the same importance as economic ones. "With all our investments, we aim to find viable solutions that reconcile ecological and economical concerns," Kirkorowicz says, explaining the company's philosophy.
This includes the new hot runner technology introduced by the company in 2016. With this technology, zinc die cast components can be cast without the usual runner system. Since the runner is eliminated, less zinc needs to be remelted and the molds can be kept smaller, increasing the machines' capacity. This allows Föhl to achieve the same output as with conventional die casting while using up to 50 percent less energy. The company celebrated a second innovative breakthrough with the introduction of the coating technology Föhlan in 2018. This technology is an environmentally friendly and economical alternative to conventional galvanization. "With Föhlan, we can reduce energy and material consumption by up to 90 percent and use significantly fewer hazardous substances," says Eigner. Since the coating can be integrated downstream of the casting process, the cast parts do not need to be transported anywhere for the coating process. This, too, reduces carbon emissions.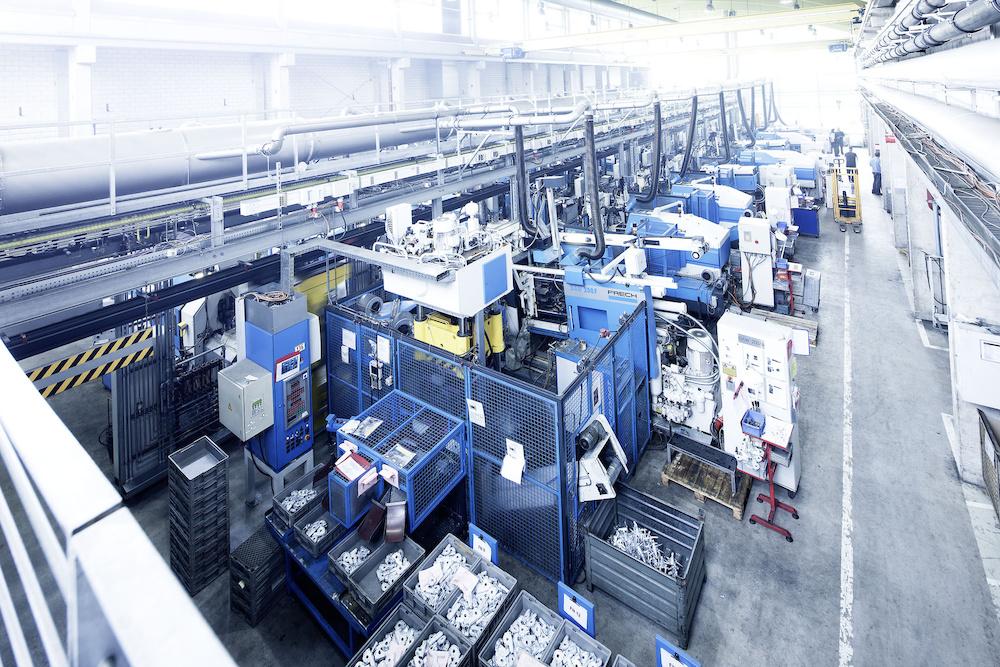 ©Föhl
Employees play a key role
As well as its technology, Föhl's employees also play a major role in achieving environmental protection targets. Kirkorowicz explains that even their smallest actions matter, such as turning off the light when they leave the office at night or making sure not to leave the water running for too long. It's also important to make people aware of environmental issues at an early age, he says. Since 2017, apprentices at Föhl have been able to take part in the German Chamber of Commerce and Industry's Energie-Scouts program, where they receive theoretical and practical training pertaining to the topic. The apprentices then implement related projects at the company, for example to reduce the energy consumed for lighting or to detect compressed air leakages.
2018 marked the launch of the Föhl Akademie. "The impetus was the rapid digital transformation in our industry," Kirkorowicz explains. "In order for the company to emerge from this digital transformation in a strong position, we need to involve our people. Change starts in the mind. If you want to implement something, you need the right culture to support it – otherwise it won't work." The Föhl Akademie creates a framework for dispelling employees' anxiety surrounding digitalization and encouraging them to see new developments positively.
Saving resources through digitalization
The primary goal of digitalization is to conserve resources, for instance via paperless factories and administration. This can save multiple tons of paper. On the other hand, electricity consumption rises due to the increased use of devices such as tablets as well as high-performance servers, but the company makes sure it uses the most energy-efficient systems possible.
The ultimate goal of Föhl's digitalization efforts is to implement the concept of the smart factory. After all, one important factor in carbon-neutral production is streamlined, process-oriented manufacturing. This includes smart production planning and control which is closely tied to the sale of customer products. Another important issue is total productive maintenance, a preventative approach where artificial intelligence, i.e. machine learning, plays a major role. In the future, the machinery will be able to detect fluctuations in the production process early on, before they can result in defective components, and autonomously adjust parameters such as temperature and pressure to fix the problem.
Covering energy demand with renewables or offsetting
In 2019, Föhl decided to offset its remaining electricity, oil and gas consumption, and switch to renewable energies wherever possible. It now only purchases electricity produced from hydropower. The carbon emissions from Föhl's gas consumption are offset via a certified project supporting wind power in China. The company is aiming to gradually reduce the expenses associated with these compensation measures. "We will continue to promote energy efficiency and still have many projects in the pipeline," says energy management expert Eigner. This includes reducing transportation within the production sequence. Furthermore, Föhl is set to switch its vehicle fleet over to renewable energies.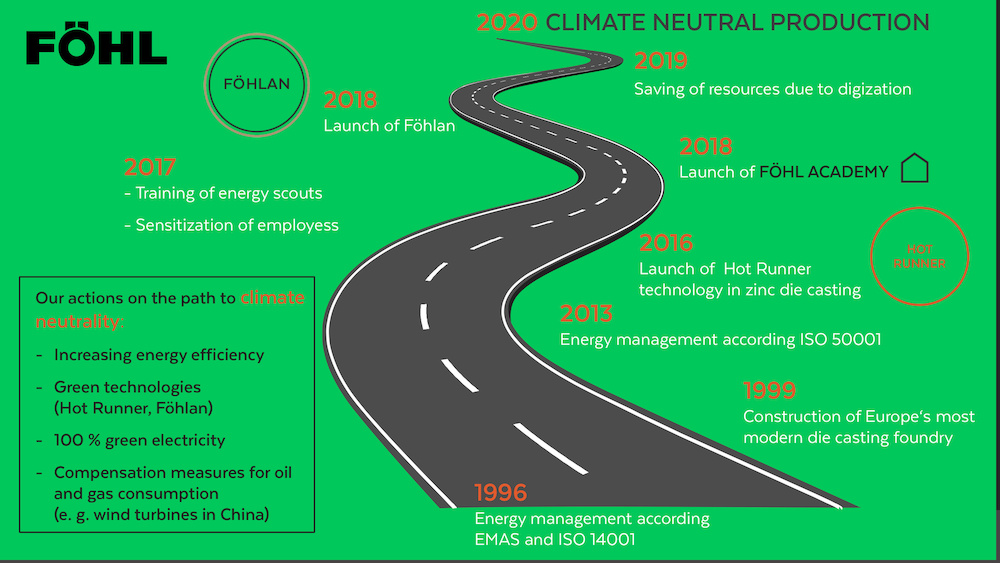 ©Föhl began the journey of gradually reducing its carbon emissions 25 years ago. The company offsets any emissions that remain unavoidable with the appropriate certificates.
By Simone Pabst
Further information: Föhl