Best Practice – Sunday, February 09, 2020
Customized systems with intelligent control keep guests cozy at Center Parcs Park Allgäu
Holiday resorts require a huge amount of electricity and heat to keep their guests comfortable around the clock. The new Center Parcs in the southern German region of Allgäu is an excellent example of how to realize an economical and environmentally friendly energy supply in a modern holiday park. The resort's many buildings are connected to a powerful multivalent system with customized technical equipment and standardized components. An intelligent control system ensures that the energy is always used efficiently.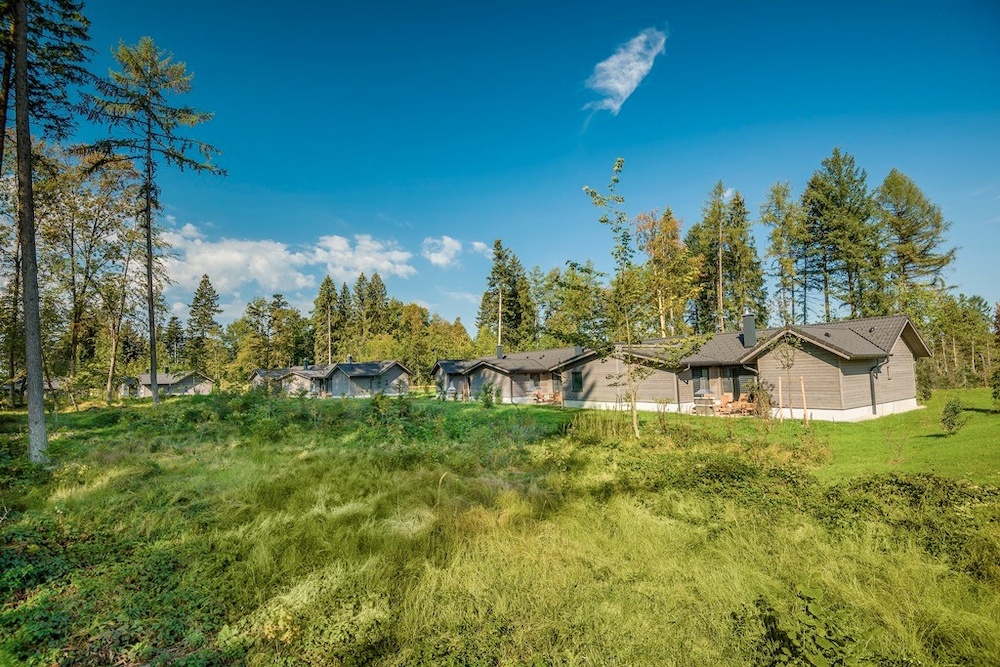 The Pierre & Vacances-Center Parcs Group opened its sixth German Center Parcs location in Leutkirch in October 2018. With 1,000 holiday homes and a wide range of indoor and outdoor activities, the French group's Park Allgäu resort has already proven very popular, welcoming 1.1 million overnight guests during the first year of operation alone. However, providing water, heat and all-round comfort to approximately 5,000 guests every day requires huge amounts of energy, which need to be supplied via a suitably proportioned energy infrastructure using highly efficient generation, storage and distribution technology.
The first step was to develop the site chosen for the holiday park with infrastructure that fitted the Center Parcs brand. In its role as contracting partner, energy service provider Techem not only constructed the local heating network with around 30 km of pipelines, but also coordinated the other tasks and the subsequent operation of the network. It commissioned energy systems developer YADOS from the German town of Hoyerswerda to design technological solutions for three areas of application: heat transfer, domestic water heating, and grid and system regulation. The objective was to create a stable, economical and environmentally friendly energy management system. The sheer scale of the project, the tight time frame and the numerous different types of accommodation made this a challenging task.
Multivalent solution for huge thermal capacities
The energy supply system at Park Allgäu currently covers around 100,000 sqm of facilities. A multivalent generation system holds huge potential for supplying energy in a way that saves resources and protects the environment, particularly in cases where the basic heat load is this high. With this in mind, the planners decided to incorporate various sources of energy – three condensing gas boilers, a combined heat and power (CHP) unit, and a pellet boiler, all supported by a buffer storage tank with a capacity of 100 m3. The entire system has a thermal output of 17.476 MW. The CHP unit generates 1.999 MW of electrical energy and is the primary source of heat, accounting for 57.1 percent of the total. Due to their considerable weight, the CHP unit and pellet boiler had to be constructed on concrete piles. The installation of the 35-meter-high flue gas system with its five pipes also proved challenging in terms of both logistics and the need to meet building regulations.
Large-scale production of customized heat transfer stations
The energy infrastructure built at the Leutkirch resort is similar to that of a small town. With 11 different styles of building and a wide range of accommodation categories (from Comfort to Exclusive), the park offers holiday homes for every target group. The objective was to design a technical solution that is largely uniform across all types of accommodation, but nevertheless allows heating and hot water to be supplied in line with individual specifications and user demand.
The heat produced needs to be supplied wherever and whenever it is needed with as little loss as possible. Low return temperatures boost the system's overall efficiency. The heat transfer technology plays a key role as a control unit connecting the building's heating system and the supply line of the local heating network, ensuring that heat is provided in accordance with current demand, temperature and pressure. By taking into account the specific demand, the outdoor temperature and the preset times and comfort requirements, the integrated direct digital control (DDC) technology calculates the necessary supply temperature.
YADOS heat transfer solutions have already been delivering excellent levels of efficiency in a wide range of settings for many years. The company was awarded the contract for the holiday park in Leutkirch as a result of its in-depth experience in planning and manufacturing systems specifically tailored to individual properties. The energy specialists were able to reduce the number of different heat transfer models from nine to five and developed a standardized lead product for around 800 of the holiday homes by modifying their YADO|GIRO heat transfer station to create the compact YADO|GIRO C. This marked the first time in the company's history that one of its custom-built designs went on to be produced on such a large scale. The expert technicians delivered 200 units of their widely used YADO|GIRO model for the holiday homes with a higher basic heat load, such as those with larger rooms or more energy-intensive facilities like saunas or hot tubs.
Simple, uniform, efficient – designs built to last
Each of the heat transfer models was subject to the same guidelines. They had to be easy to install and maintain, take up little space, and ensure comfortable levels of heating, all while maximizing energy efficiency. The domestic water heating (DWH) systems had to meet similar criteria. The decision was made to use continuous flow modules with optimized return flow, as these not only provide the desired level of energy efficiency but also meet the statutory hygiene requirements for public and commercial facilities, including those stipulated by the German Drinking Water Ordinance (TrinkwV, 2001).
These extensive criteria were fulfilled by the simplified, standardized version of the YADO|GIRO transfer system, whose design meets the on-site requirements precisely. Regardless of their performance category, the systems all comprise identical core components, such as circulation pumps, heat exchangers, primary valves, shut-off devices, communication control systems, and DWH regulators. This means it is more straightforward to maintain the systems and to share data transparently during operation. The standardized design also simplifies medium- and long-term planning. For example, it makes it easier to train new employees and hand over work to other staff members, and cuts costs due to the lower number of spare parts required.
Heat transfer and DWH technologies have a major role to play in long-term sustainable building operation as part of a comprehensive approach to managing energy efficiency. However, a suitable over-arching control system – in this case YADO|LINK – is needed for them to be used effectively. This central regulation system coordinates the output of the individual units and their components in order to maintain stable operation, especially during peak load periods. It also ensures that opportunities to save costs are fully exploited, thus keeping the systems competitive in the long term. Depending on external factors (e.g. weather conditions) and user behavior, the control system optimizes operation and the regulation of return temperatures while the network is up and running. This means that the system can be adapted flexibly and precisely to fluctuations in demand to ensure efficient energy usage.
Conclusion
The latest developments in the fight against climate change are continuing to shape discussions on the use of future-proof supply technologies. Projects involving large-scale energy supply are under pressure to be more energy efficient and environmentally sustainable while also offering extremely high levels of comfort, reducing costs, and generating a healthy profit. The latest park opened by the French Pierre & Vacances-Center Parcs Group is an excellent example of how sophisticated, powerful and energy-efficient technologies can fulfill the complex requirements of real-world usage.
By Jürgen Schwausch, R&D Manager, YADOS GmbH
For more information, please visit: Yados (only in German)