Industry News – May 20, 2021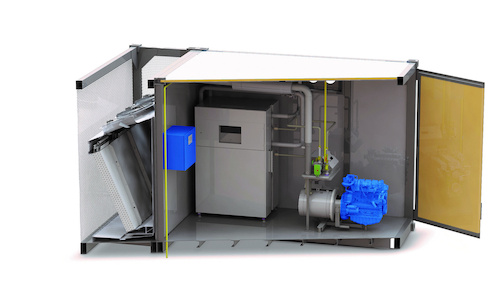 The H2 Powerbox from Energiewerkstatt – the German CHP specialists based in Hanover – is a compact and modular charging solution for companies and organizations looking to resolve their current lack of infrastructure for charging electric vehicles. H2 stands for second-generation hybrid technology. The H2 Powerbox is supplied as a plug-and-play unit and contains a high-efficiency CHP engine and optional absorption chiller or heat storage tank. Each module generates up to 40 kW electrical power and up to 80 kW thermal power. The cooling power output ranges from 10 to 20 kW. According to the manufacturer's description, depending on the model, the type 2 charging station can charge up to four vehicles simultaneously, each with 10 kW – and that's entirely independent of the mains grid. The Powerbox is fitted with the THEO energy management system which ensures the smart distribution of the power generated by the CHP unit. The THEO system can also be retrofitted in existing energy systems including photovoltaics and battery storage systems.
Energiewerkstatt sees car dealerships as an ideal use case. With an H2 Powerbox installed, a medium-size car dealership with an annual electricity consumption of around 250,000 kWh would be able to generate almost all its own electricity. When not being used for heating, the waste heat from the CHP engine could even be converted to cooling as part of the air-conditioning systems for the showroom or server rooms. (SP)
For more information, please visit: Energiewerkstatt
Do you want to receive monthly updates on recently published interviews, best practices and industry news? Then sign up for the EM-Power Newsletter!