Start-up Story – April 22, 2021
solbytech stabilizes mobile communication between PV systems and routers
We are all too familiar with the frustration of losing the connection during a lively call. What may not have any negative repercussions for a phone call between friends could be costly and time-consuming for companies monitoring PV systems. solbytech, a start-up company, has developed a solution for stabilizing and securing decentralized installations' mobile communication systems, in turn contributing to the expansion of renewable energy use.
Mr. Eder, your start-up solbytech has managed to developed a solution for stabilizing the communication between PV installations and monitoring systems. What was the initial issue?
Data from decentralized installations is often transmitted via industrial routers. However, this means that mobile communication is particularly susceptible to malfunctions, making seamless management of PV installations virtually impossible. Stability is affected by many different factors: Aside from incorrect settings, outdated software, improper operation, the wrong SIM cards, mobile network issues and system overloads, many fine-grained settings can have a pivotal effect. Actively controlling industrial routers can substantially improve their reliability as well as the stability of their connection.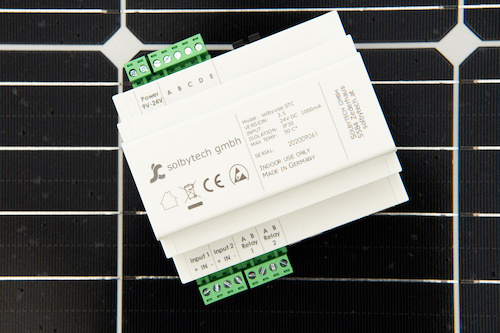 ©Salzburg AG/Marco Riebler
Your solution includes both hardware and software. Could you describe the individual components and their functions in more detail? How does it all work?
The main advantage of our solbyvise system solution is the combination of hardware and software components. Our system can be integrated into the installation right from the beginning – or it can be retrofitted later on. The hardware – the solbyvise STC minicomputer – is what makes the system a smart system. Incorrect pre-configuration settings are prevented by the simple plug and play solution. Once our system is integrated into the installation, it supplies the power to the industrial router. The uninterruptible power supply allows for a controlled shutdown of the components even in the event of a power outage, plus it records the PV installation's most recent status and error messages. The system is rounded out by smart update management and a function for performing a hard reset on the router.
The system uses cloud technology. What functionality does the cloud offer?
We have developed the scalable cloud architecture solbycloud as an independent IoT platform. The solbytech monitoring and tracking system records the industrial routers' communication parameters. The router and installation-specific data, such as the location-based signal strength, reception quality, mobile data service, the location-independent device data and the log files of the router's operating system, are often stored in a database and processed, evaluated and visualized in our cloud-based application. The findings can then be used by the cloud-based software to automatically set up the industrial routers according to their site, regardless of the manufacturer, and thus reconfigure them.
We are also already working on new developments for the future, such as AI-based data analysis and an information and cyber security solution which is compliant with the European directive on network and information security.
Can solbytech also be used for other decentralized installations, for instance for wind power sites or off-grid systems?
Yes, of course! In addition to other energy industry applications, including natural gas monitoring, charging station communication and wind farms, our solution also adds value for decentralized communication applications in other areas, acting as a troubleshooter.
What advantages does your system offer for installation operators?
Operators benefit first and foremost from cutting costs and reducing carbon emissions, as they won't have to call on technicians to repair as many communication malfunctions as before. We essentially automate the entire process – from router installation and commissioning to active management – and reduce susceptibility to faults, meaning they occur less frequently. Relevant data on the times when faults occur, which is not currently available on the market, can help to improve monitoring.
Who is your target market?
Our direct target market consists of operation and maintenance companies which are trying to refocus on their core expertise and to increase their competitiveness by making their management processes more efficient. Other market participants such as monitoring companies which rely on seamless communication for data to be transmitted to monitoring systems can certainly benefit from more stability in their communication. For these and other target groups, we want to act as a sort of "pain reliever" and use our system to offer solutions which improve processes in the long term.
You also talk about artificial intelligence on your website. How does this fit into your communication system?
Yes. Artificial intelligence will have a very important role to play as a future addition. Current data will be linked with historical data and checked for causalities. Artificial intelligence will be at the heart of the application for data analysis and the automatic reconfiguration of the industrial routers.
solbytech is also active in the cyber security sector. In February, hackers gained access to a water treatment plant in Florida and manipulated the water treatment process. How secure are decentralized renewable energy installations from cyber attacks?
We view information and cyber security as one of the most important elements in the digitalization of the energy industry. All industrial routers and internet-ready devices (IOT devices) which are built into photovoltaic installations could be the target of a cyber attack. It is important to be aware of these risks so that appropriate measures can be taken to minimize them. The most basic requirement is for users to regularly ensure that their systems are up to date!
What can be done in general to reduce these risks? What approaches do you follow?
As I said, it is important to be aware of these risks. In general, the energy sector is a critical component of our infrastructure. The NIS directive requires this sector to take certain technical and organizational measures to ensure cyber security, and any breach must be reported immediately.
We want to give immediate support to our clients in the decentralized implementation of the necessary measures on the sites where their photovoltaic installations are located. For instance, PV installations' grid and information systems can be monitored on site and made safer through the integration of innovative intrusion detection and prevention systems as well as port scanning, alert management and reporting. The goal is to treat photovoltaic installations as critical infrastructure and protect them from cyber attacks, with the ultimate goal of ensuring a secure energy supply.
This interview was conducted by Simone Pabst.
For more information, please visit: solbytech
Do you want to receive monthly updates on recently published interviews, best practices and industry news? Then sign up for the EM-Power Newsletter!