Industry News – January 16, 2023
Digitalization is the key to a renewable, climate-neutral energy system. While a lot has already improved as we transition from an analog to a smart power grid, some areas are still lagging behind. The Fraunhofer Cluster of Excellence Integrated Energy Systems (CINES) offers an assessment of what needs to be improved.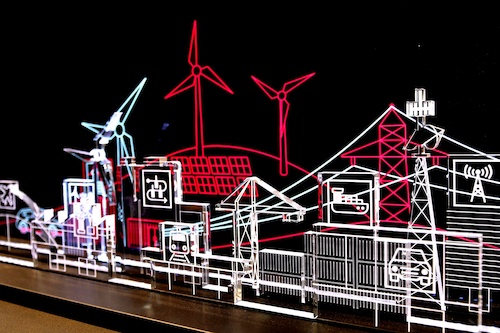 New business models must be digital – this also applies to those in the energy industry. Nowadays, customers are not just consumers, but so-called prosumers or flexumers, which means that they not only consume, but also produce energy as well as buy excess energy, serving as buffers in the system. For this to work, customers have to be actively integrated into the system. For this to work, digitalization has to do more than simply automate existing processes. "The transformation turns value-added chains into value-added networks," explains Manuel Wickert. This means that existing business models must be replaced, or at least adapted.
Wickert is Head of Digitalization at the Fraunhofer Cluster of Excellence Integrated Energy Systems (CINES) and Head of the Department of Energy Informatics and Information Systems at the Fraunhofer Institute for Energy Economics and Energy System Technology (IEE) in Kassel, Germany. Together with his team, he published a survey on the "Digitalisierung des Energiesystems – 14 Thesen zum Erfolg" (Digitalization of the energy system – 14 theses for success). The survey, which provided the basis for the Fraunhofer symposium in Berlin in mid-September 2022, shows the current digitalization level of the energy system and identifies the major levers for a climate-neutral energy industry using digital tools.
Need for more digitalization of distribution grids
In order to achieve a decentralized energy transition, all levels of the power grids need to be digitalized. "The upper levels of the transmission system and the high-voltage grids already have a high degree of digitalization," Wickert explains. The part of the power system that has the greatest need for more digitalization is in the distribution grid, though. The number of power generating systems is expected to grow considerably, especially at the medium and low voltage levels. Photovoltaic installations, controllable consumers and heat pumps, electric vehicles and battery storage systems in particular, will be added at an ever faster pace. The scientist stresses that this is why grid operation relies on expertise in digitalization, which entails training and recruiting qualified personnel for this sector. "The view that digitalization is a mere service that can be purchased does not do justice to the significance of this technology."
Districts' development is thwarted
As Wickert points out, the biggest need for driving digitalization is in the area of heating grids. "Sector coupling, and especially the heating sector, require considerably more digitalization," the researcher emphasizes. This is the only way for the heating sector to become decarbonized in the medium-term. It would require the integration of large-scale solar thermal systems, as well as large-scale thermal storage systems and large heat pumps that store energy seasonally.
Digitalization will be particularly useful at the interfaces between the electricity, the heat and the mobility sectors. "Data can add value in many different ways," Wickert says. After all, the value of energy is not constant. It depends on a variety of factors, such as the time of generation, system flexibility, fluctuating feed-in and CO2 consumption during generation. Joint dataspaces enable the use of innovative methods such as artificial intelligence inside critical infrastructure. This will give a considerable efficiency boost to the processes within the energy industry.
Plug-And-Play in the Internet of Things
The interconnection between devices and systems over the internet is crucial for enabling the data flow between producers, consumers and storage devices in the first place. It is the only option for quickly and swiftly controlling multiple energy systems within the smart grid or smart market of the future. Devices should be installed using a plug-and-play system for maximum efficiency. This requires adequate underlying processes.
Developing a kind of cyber resilience
IT security is naturally a key issue for a growing digital energy infrastructure. "In view of the complexity of modern software systems employed in the energy industry, absolute security will never be achieved," says Wickert. This is why cyber resilience will play an increasingly important role. This means that "we have to do more than just protect our systems against intruders – we have to learn to deal with disturbances or attacks. It is simply impossible to make everything secure, so instead, we should focus on how to respond to intrusions," Wickert emphasizes. That being said, all players within the energy supply system, including manufacturers and their cloud service providers that manage thousands of individual systems have to contribute to strengthening the level of protection of our critical infrastructure.
Innovation drivers
"Every time digital technologies are used to solve actual problems facing the energy industry, innovations are created," Wickert says. These are the drivers. The technology simply needs to be adapted to meet the requirements of the energy world. This means, for instance, that system communication data should be provided to various players because older green power plants still employ telecontrol technology that has not been upgraded. This is why new systems should use modern, open-source IoT (Internet of Things) protocols. After all, digitalization is a major key to a successful and fast energy transition, a fact that was also emphasized by the Fraunhofer survey.