Focus Topic of EM-Power Europe 2022
You can't manage what you can't measure. This statement by Peter Drucker, a famous economist, also applies to a company's emissions and its path towards climate neutrality.
In a survey conducted by the University of Stuttgart, around half of the responding companies stated that they didn't know how high their carbon emissions were. And this is despite the fact that knowing what your emissions are is the first, basic step towards developing a climate strategy and a precondition for determining one's carbon footprint.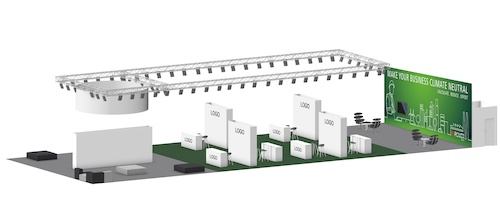 But which emissions are relevant in this calculation? Only those produced by the company itself or also those of its suppliers? How can those be recorded? What options exist for effectively lowering carbon emissions? And how can unavoidable emissions be balanced out in order to make a company carbon neutral?
The topic did also play a major role at the EM-Power Forum. Under the title "Exit Strategies - How Companies Can Become Climate-Neutral," visitors received fresh ideas and practical suggestions on each day of the exhibition.
EM-Power Europe highlighted this topic even more with the special area "The path to a climate-neutral company", where experts were on hand to explain how emissions can be balanced, reduced and offset, and much more. More information on the exhibitors of the special area 2022 is available here.
This area of focus at EM-Power Europe covers the following topics:
CO2 balancing, auditing and certification
Methods for reducing and neutralizing carbon emissions (zero carbon strategies)
Methods for smart and efficient energy use (energy controlling and management)
System services (planning and implementation of renewable energy supply and usage)
Energy services for carbon emissions reduction (energy procurement, PPAs, energy contracting)
Financing / subsidy programs
Discover Exhibitors 2023
Discover in the exhibitor list all providers of products and services related to the topics of EM-Power Europe and use it to plan your exhibition visit.