Industry News – January 5, 2022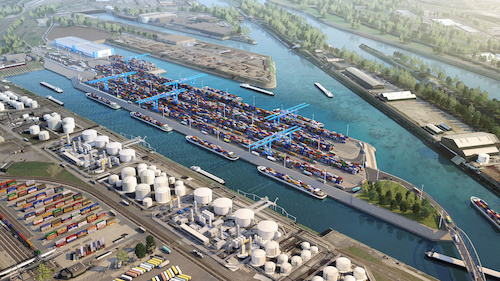 The inland Port of Duisburg will be home to Europe's first climate neutral container terminal. A sustainable energy system that links renewable energies, energy storage and consumers as well as supplying neighboring districts with energy is to be installed on the site of the former Coal Island over the next few years.
To do so, the Fraunhofer Institute for Environment, Safety, and Energy Technology UMSICHT and the Duisburger Hafen AG (duisport) are using the project enerPort II to apply results from the preliminary project in practice. Launched in the summer of 2019, the project enerPort I focused on how inland ports can be supported during the energy transition.
"Specifically, we will implement a sustainable, hydrogen based energy concept that aims for a high level of self-sufficiency," says Alexander Garbar, Deputy Head of Corporate Development and Sustainability Manager at duisport. An intelligent local power grid will connect and control photovoltaics and hydrogen based combined heat and power plants with electrical and thermal energy storage systems as well as hydrogen storage and consumers such as onshore power, charging stations and crane systems. Key components for this project are fuel cell systems and hydrogen engines for power generation and battery storage.
A modular structure is a special feature of this: It creates the conditions for an uninterrupted continuation of the transformation process, as follow-up or satellite projects can be easily integrated. The use of hydrogen powered shunting locomotives is an example of further plans for the future. Alongside the Fraunhofer Institute and duisport, other partners in the project are Westenergie Netzservice GmbH, Rolls-Royce's Business Unit Power Systems, Netze Duisburg GmbH, Stadtwerke Duisburg and Stadtwerke Duisburg Energiehandel GmbH. (SP)
Project partner Rolls-Royce will be exhibiting at ees Europe from May 11-13, 2022.
Would you like to learn more about how companies and neighborhoods can become climate neutral? Then visit our topic page "Climate-neutral companies".
At EM-Power Europe from May 11-13, 2022, there will also be a special area "The path to a climate-neutral company" where up to eight exhibitors can exclusively present their expertise in the areas of balancing, reducing and offsetting emissions.