Industry News – Thursday, August 27, 2020
The smart-grid project of Békéscsaba is part of the "Modern Cities" program of Hungary. The objective is to supply all energy needs of the urban sport center area. The Békéscsaba SG1 smart grid project will be implemented by the end of 2020.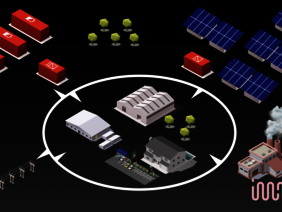 AEG Power Solutions, a global provider of power supply systems, today announced that Convert SC Flex storage converters were chosen by INFOWARE Zrt. as a core component of the micro-grid system. The power will be provided by a 1.3 MWp photovoltaic power plant. The DC voltage produced by the solar cells is connected to the grid via 2 AEG Protect PV 880 inverters.
The time and quantity differences between the weather-dependent production and the consumption of sports facilities are compensated by a lithium-ion battery energy storage system rated at 1.2 MW power and a capacity of 2.4 MWh. The energy storage system is based on lithium-ion battery modules of 7.61 kWh each, installed in a fire protection rack system.
INFOWARE is also providing real-time energy management (EMS) and control system which performs local and remote-control tasks as well as the local smart grid center which collects data further used by the "brain" of the microgrid system allowing to minimize the cost of energy used and optimize the whole installation.

Source & Image: AEG Power Solutions | www.aegps.com
The ees International Magazine is specialized on the future-oriented market of electrical energy storage systems, not only from a technological-, but also a financial and application-oriented point-of-view. In cooperation with ees Global, the ees International Magazine informs the energy industry about current progress and the latest market innovations.