Climate Neutrality in Cities and Municipalities - CO2-Neutral Neighborhood Concepts, Microgrids and Coupling of Sectors
The smarter E Podcast Episode 25 | November 05, 2020 | Language: German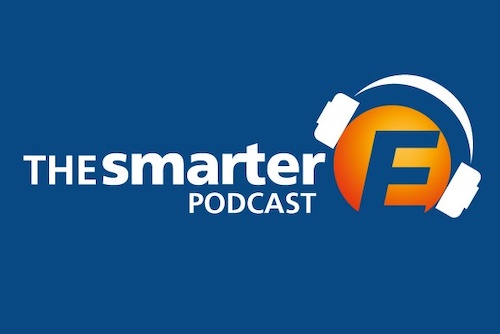 Cities and municipalities, in short all urban areas, are responsible for a large part of global emissions. They therefore play a central role in implementing the energy turnaround towards climate neutrality.
However, many cities and municipalities are at a standstill in their efforts to achieve their sustainability goals and the goals of the Paris Climate Agreement. What is preventing them from doing so and what solutions are available for an efficient, decarbonized and sustainable energy supply?
We will be discussing this with Dr. Norbert Reuter, Managing Director of Stadtwerke Konstanz (SWK).
About The smarter E Podcast
The smarter E podcast is all about the current trends and developments in a renewable, decentralized and digital energy industry. Our moderators Tobias Bücklein and Zackes Brustik welcome and interview personalities who shape our industry and drive developments forward. A new episode is published every Thursday.
Click on the logo to listen to the podcast on the platform of your choice.
About Dr. Norbert Reuter and Stadtwerke Konstanz
Stadtwerke Konstanz is one of the largest energy supply and transport companies on Lake Constance. Its core business includes not only energy and water supply, but also the transportation of passengers in city bus services and the Constance-Meersburg ferry service. Dr. Norbert Reuter has been Managing Director of the Constance Public Utility Company since 2014. In addition, he is Managing Director of the wholly owned subsidiaries BSB Bodensee-Schiffsbetriebe GmbH, BHG Bodensee-Hafen-Gesellschaft mbH and BGK Bädergesellschaft Konstanz mbH.
This Podcast Episode is Supported by