If you travel to The smarter E by car, find directions and parking information for conventional and electric cars below.
Directions
Messe München is situated directly next to the A94 motorway. A dynamic traffic routing system shows you the way. Below you'll find information for arriving at The smarter E Europe with and without the help of a navigation system.
Cars with a navigation system
Depending on which navigation system you have, you'll find the Messe München along with the ICM – International Congress Center München in the category "event centers" or "exhibition grounds", or under the keyword "trade fair". For The smarter E Europe please go to the East Entrance or West Entrance.
Cars without a navigation system
Messe München and the ICM – International Congress Center München are located directly on the A94. Reach both event centers by taking either freeway exit Feldkirchen-West (Exit Nr. 6) or München-Riem (Exit Nr. 5).

On the event center grounds, a dynamic traffic control system regulates the flow of traffic. It directs you the free parking spaces closest to the event center.
Parking
Messe München offers extensive parking facilities as well as charging infrastructure for EVs.
There are enough parking spaces available for both exhibitors and visitors. During the event, the traffic-control system will guide you to vacant parking spaces. The parking lots at the open-air exhibition grounds, the Parking deck West (Parkhaus West) and Parking deck East (Parkhaus East) open two hours before the event begins and close two hours after the event ends. For further information please click here.
Please note: As of October 1, 2008, the city of Munich is a low emission zone. So-called Emissions Stickers (red, yellow or green) are required to drive in the low emission zone. This also applies to anyone visiting the city. Beginning in October 2008, all streets located inside the "Mittlerer Ring" are considered to be in the low emission zone, for which a sticker is required. The "Mittlerer Ring" itself is not in the low emission zone.
Electric Vehicle Charging Stations
Visitors and exhibitors of The smarter E Europe, who arrive with electric vehicles, will find electric charging stations of Messe München in the Parking Garage West (at the basement, Sektor B), at the Trade Fair Administration Building, at the ICM - International Congress Center Munich, as well as at the visitor parking area P9.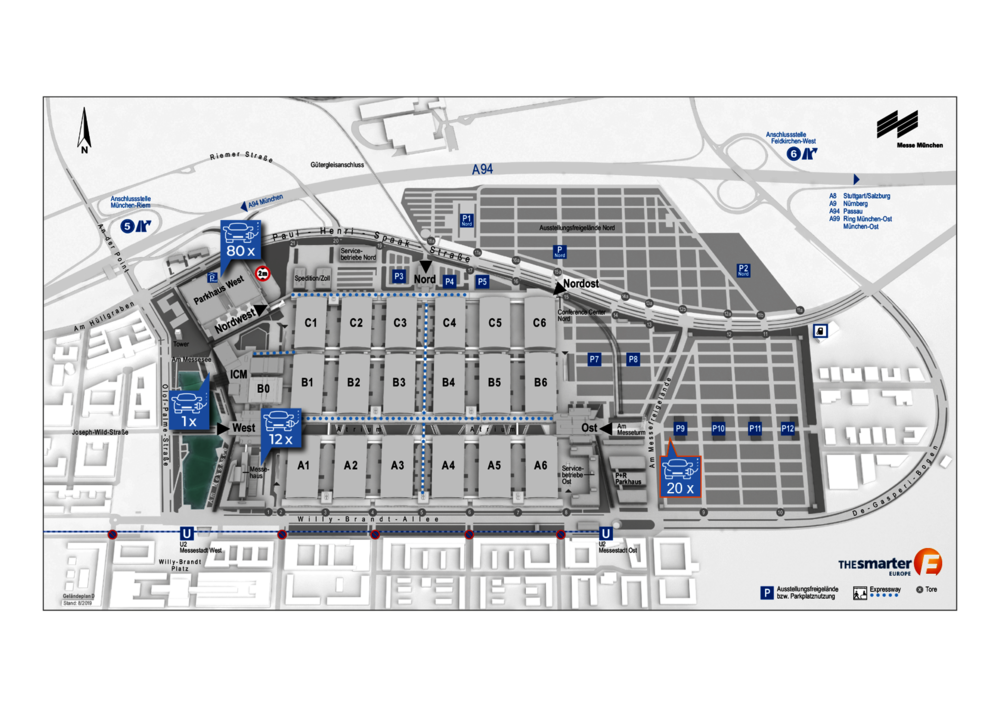 A chip / transponder card is necessary to unlock the charging stations. Every electric vehicle owner has this card, it won't be provided by Messe München.
The use of the electric charging stations is free of charge, only the regular parking fee is payable. For further information about the charging stations at Messe München please click here.
There are also electric charging stations in the nearby parking garage of the shopping center Riem Arcaden.